Latest molded PP disk. (Is that Wile E. Coyote, flattened under a manhole cover?)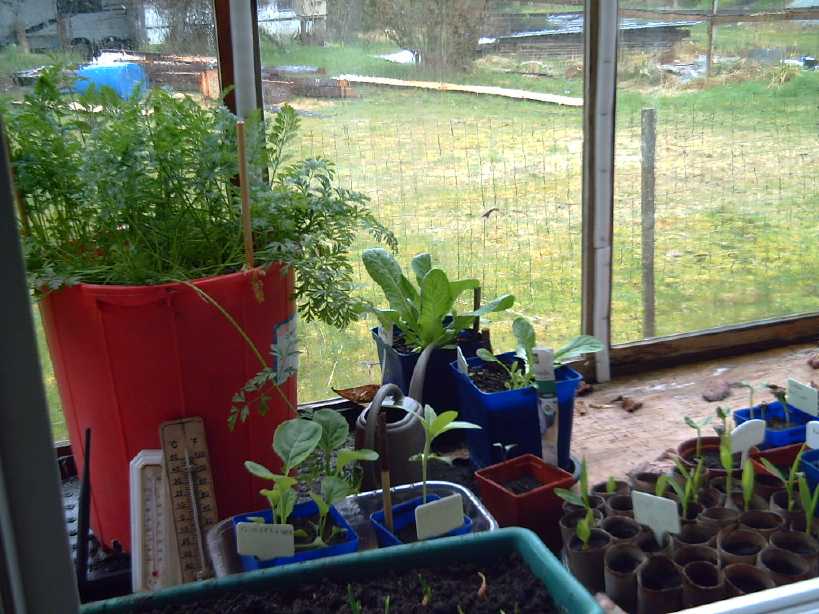 The carrots I planted in the bucket in early December next to the woodstove under LED grow lights
are still pretty small - a bite or two. I guess they're not growing very fast in the cold since I moved them.
Some lettuce, cauliflower and spinach (large blue pots) are doing well as are some sunflowers (small blue, round brown) pots.
Some of the corn in the old toilet paper rolls came up great, but many tubes just sat there. I've finally planted more
in the empties (about 48 tubes). The idea is to transplant them into the greenhouse, one simply puts the whole tube
in a hole and fills the dirt in around it. Less stress than a "transplant".
In the big rectangular green pot are 3 rows of onion sets. I hope they transplant well -
with their thin, spreading roots they're the ones that should really have been in toilet paper rolls.
PS: Once something comes up, it does much better in the oven-sterilized soil without fungus gnat larvae chopping off the roots and buds.
PPS: I moved them all in for the picture. They're usually more spread out.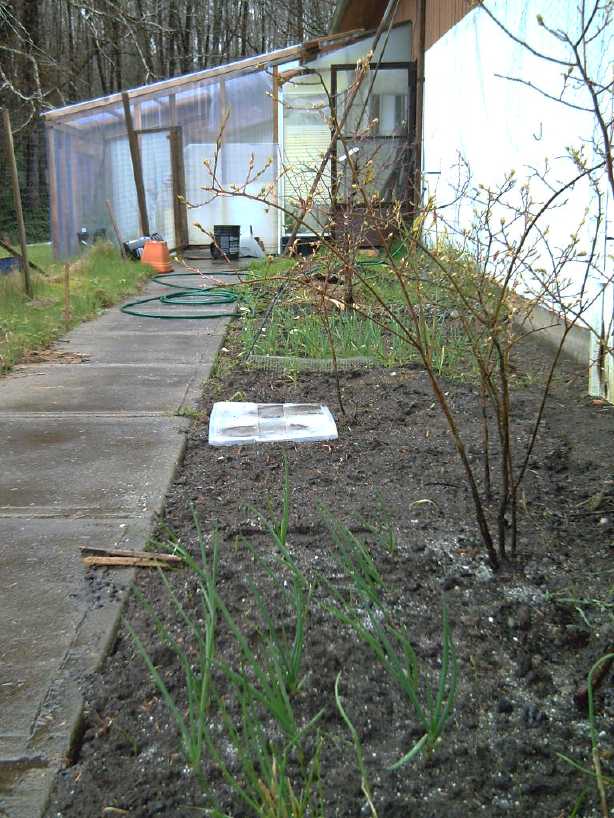 The south wall garden now has chives and 3 kinds of onions planted in front of the blueberries.
Past the bare area is garlic planted last fall and coming up nicely, and the apricot tree.
Between the tree and the greenhouse was potatos and now it needs de-grassing and the soil needs reworking.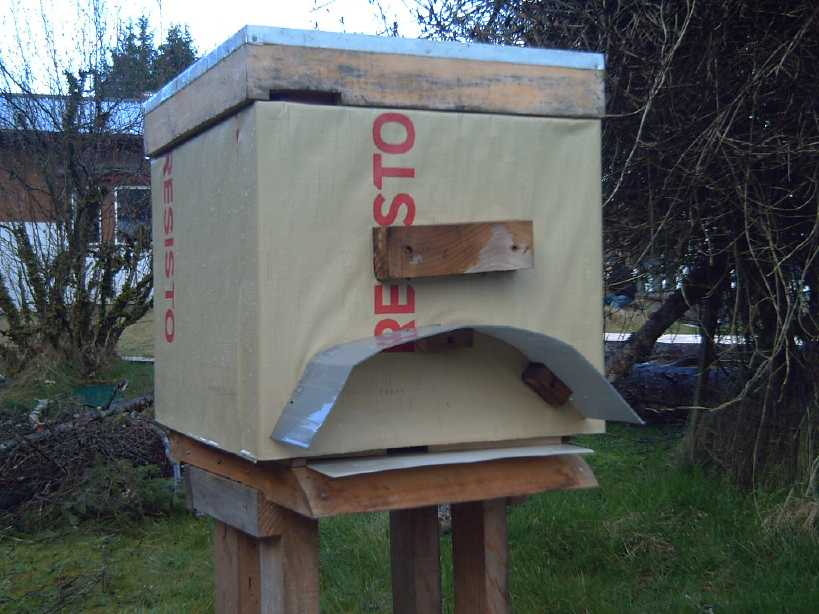 The key to getting fruit is probably to get some honey bees to pollinate the trees better.
I've covered the plywood to weatherproof it and set my insulated bee palace with extra
deep frames out on the lawn with a couple of drops of lemon grass oil to attract any
passing scouts from a swarm. (Fingers crossed!) Frames full of honey would be a bonus!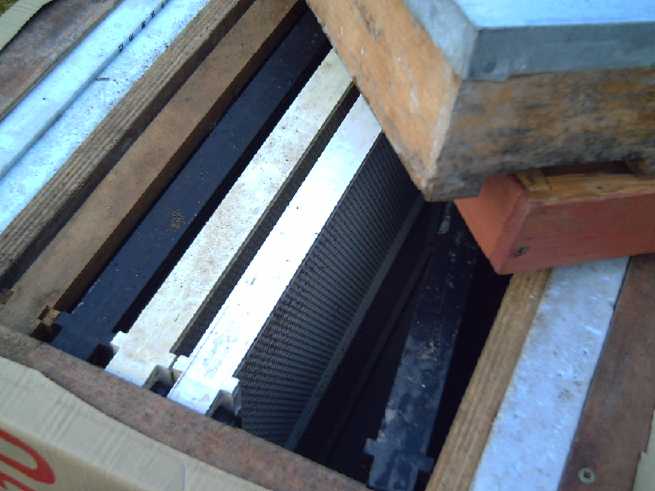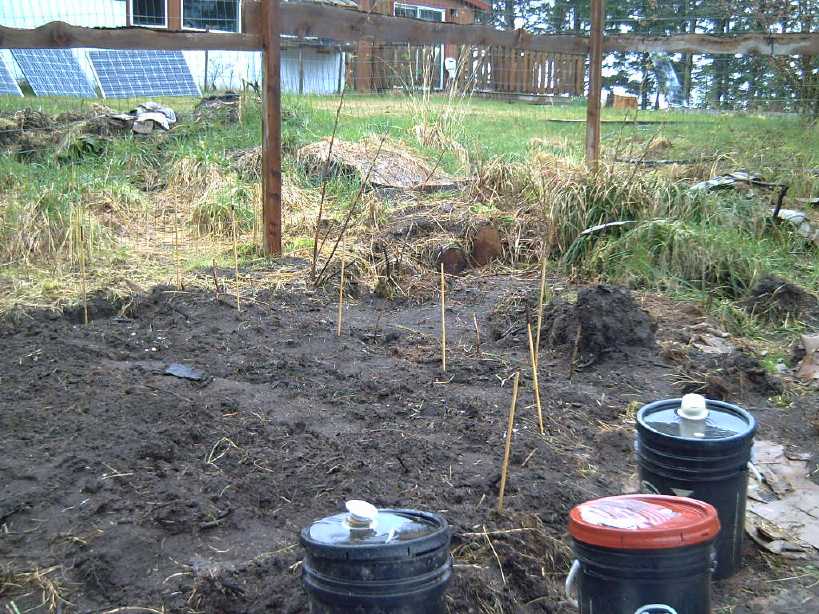 On the coast here potatos would seem to be the key to getting enough
calories to live on if there's nothing else. They grow like weeds here.
(Potatos enabled a huge population boom in Ireland until they got a fungus blight.)
Here looking about northeast at the north 2/5 of the garden, the big old spruce tree roots and
much of the tough swamp grass with almost impenetrable masses of thick roots have been dug up.
The east half has raspberries from last year, many with that nearly undiggable swamp grass
all around them and the everbearing ones, just little sticks with roots, just planted.
(Now if I dig up the swamp grass it'll uproot the raspberries.)
I put a "tent pole" stake to the left of each raspberry stick to help me avoid stepping on them while I worked on
the west half, which so far has two well fertilized, loose soil rows of 12 planted potatos, to become 3 or 3-1/2 rows.
The other 3/5 of the garden will be planted as it gets warmer.
It was days of work digging down through the mass of swamp grass roots

to expose the tree roots and then cutting through them with a chainsaw.

Planting the potatos involved some more weeding, digging up the soil and loosening it to 12 inches on each side of the row with the shovel, digging 6 inch deep trenches 30 inches apart, and adding fertilizers. Any soil will grow potatos, but they are heavy feeders and will do much better in loose, fertile soil. I used things I had: potassium sulfate because potatos need sulfate, woodstove ashes for potassium (ya, I already added potassium, right?), lime grit/powder (lime gets washed out in heavy rains around here), straw with chicken manure, eel grass from the ocean, some bone meal (for phosphorus) and a bit of borax. (Having used up the packaged things, later I bought some 4-20-20 fertilizer and magnesium sulfate (epsom salt) for next year. But I should also look for natural sources.)

Figure 2. This plate came out pretty even in thickness, but too much plastic
oozed out the edges (especially at the top) instead of filling everything in.