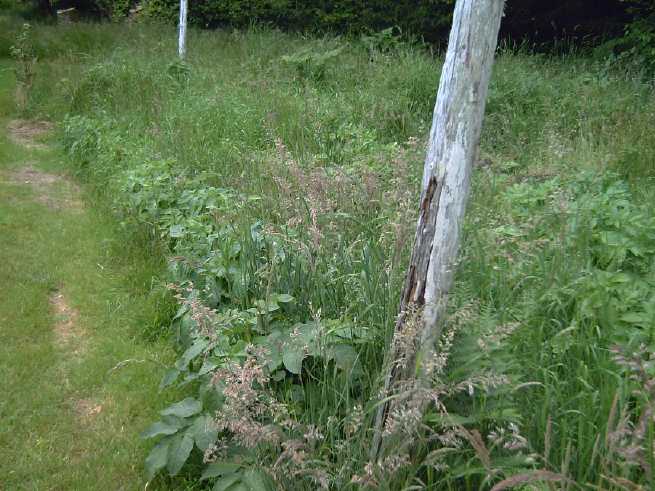 The "old garden" plot with 3-1/2 rows of potatoes 25 feet long and grass growing tall between and beyond.
I considered it too shaded to grow anything until I cut down 3 trees just south of it this spring...
then I said "It's probably bright enough there now for potatoes!"
Luckily the deer don't seem to care for potatoes and I can grow them outside of fenced areas.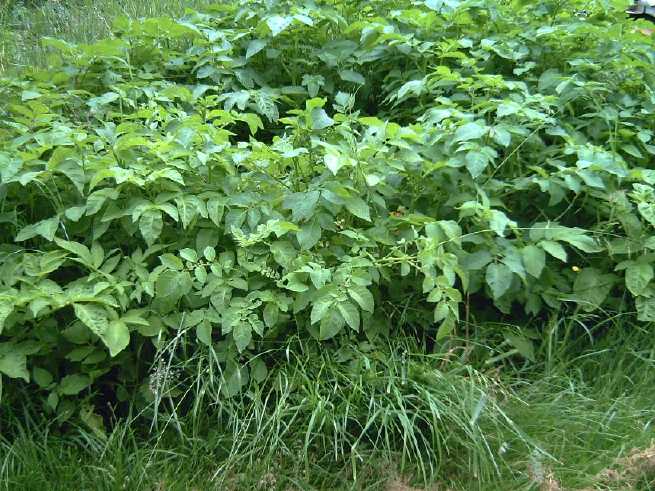 "Potato Hill" next to the main garden - an 8 by 9 foot patch that started as volunteers in a pile of dirt.
I "fluffed up" the dirt with a shovel this spring as potatoes grow biggest in loose soil.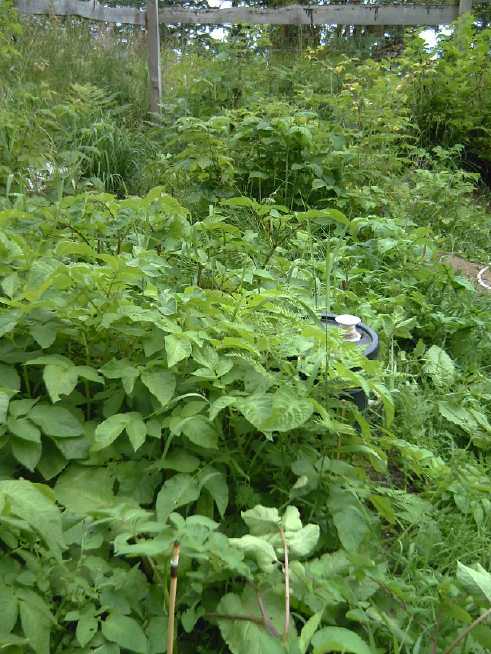 The north side of the main garden with (yes)... more potatoes.
Beyond them, raspberries. (hidden in there somewhere, a few other vegetables.)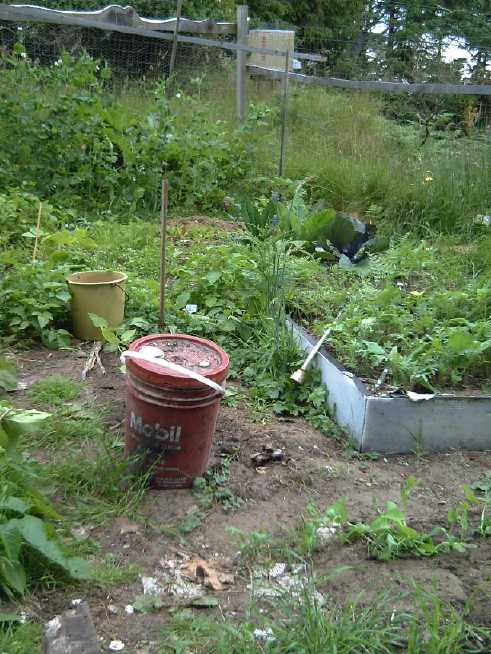 Ssouth side of the main garden.
Farthest back, black currant and josta bushes and a giant rhubarb
are hidden behind a tall 10 foot long row of peas. (The birds have been
eating the berries. If I want any I'll have to cover them.)
In front of the peas besides profuse weeds (including potatoes) are
various vegetables: beans, lots of carrots, kale (volunteers!),
cabbage, turnips, radishes, beets...
Front right a new row of peas. (nothing for them to climb on yet!)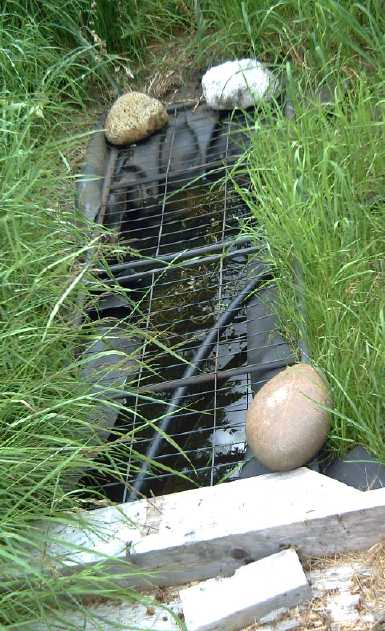 I made a new "hidden" pond next to the garden.
I used a small pond liner (and "Ikea sofa back frame" guard to keep the otters,
raccoons and herons out), both brought from Victoria when I moved.
3 tiny "pond comet" goldfish for just 17.50$ each.
(They have to be rushed air freight, couriered at both ends: "It's the water they're in that costs a fortune to ship."
She said they were cheaper when someone on the island was raising them... but an otter got those.
An otter got mine twice in Victoria. They catch and eat them all in one sitting.)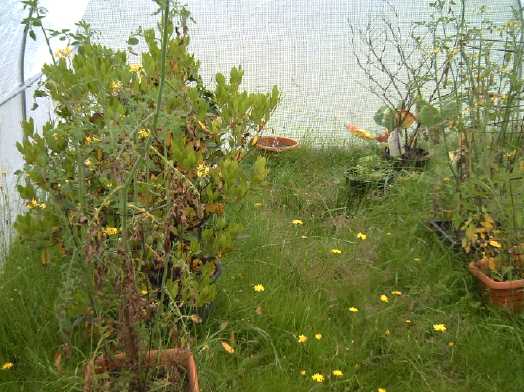 I bought a 10 by 15 foot tube frame & plastic cover greenhouse and put my potted
plants in it to make more room in the main greenhouse.
But something (leafhoppers in the grass?) was eating the peppers
and I had to put them outside on my porch, despite peppers liking heat.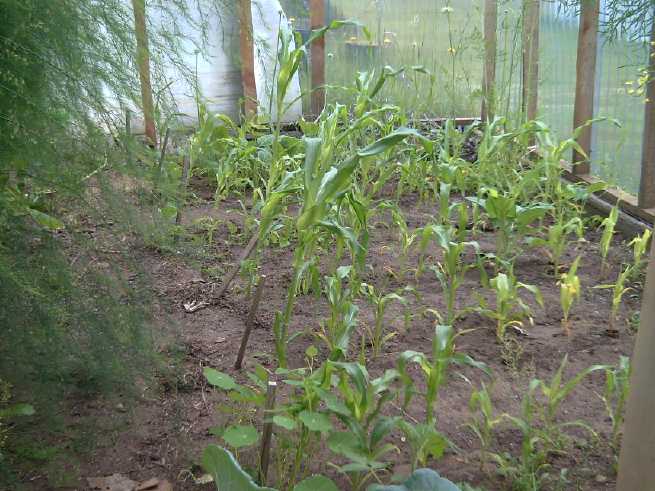 The corn in the main greenhouse. A few of the plants are doing much better than the rest.
(Why? Hmm... The seeds were of more than one variety. I'll save some from the big ones - assuming I get cobs!)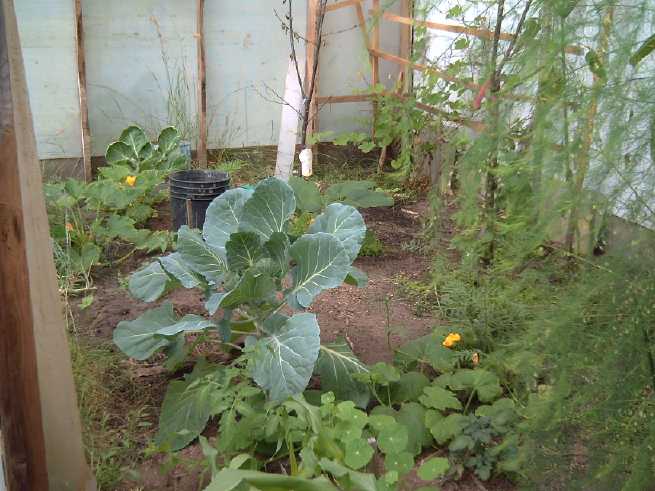 The other end of the greenhouse.
Zucchini, squashes, tomatos, beans, a big volunteer cabbage or broccoli or cauliflower. (not sure yet!)
Fruit trees not doing well (got dried out over winter when I forget to water?), grape vine not as bad.
Asparagus jungle is to my right.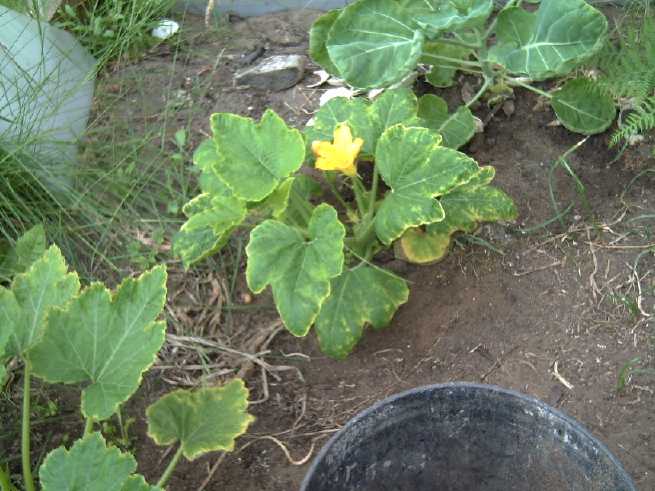 Squash plants seem to just sit there, then suddenly they start running along the ground and occupying
more and more space. I finally found why the edges of the leaves turn yellow: potassium deficiency.
I guess I should mix in more woodstove ashes when I'm planting?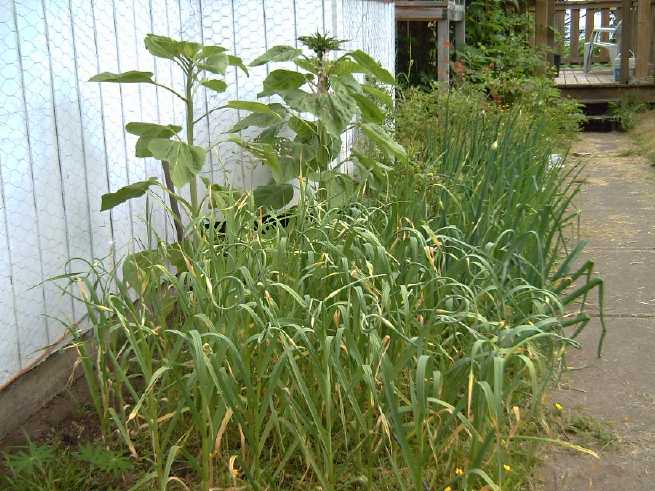 House south wall garden: garlic planted last fall, sunflowers
started in pots in spring, many & various onions, chives, mint, 5 blueberry bushes.
Strawberries (a variety that actually makes berries here!) are under camera.
The birds seem to have just discovered them and I'll have to cover them if I want any more berries.
Spreading out grass from a pile next door to dry in the sun.