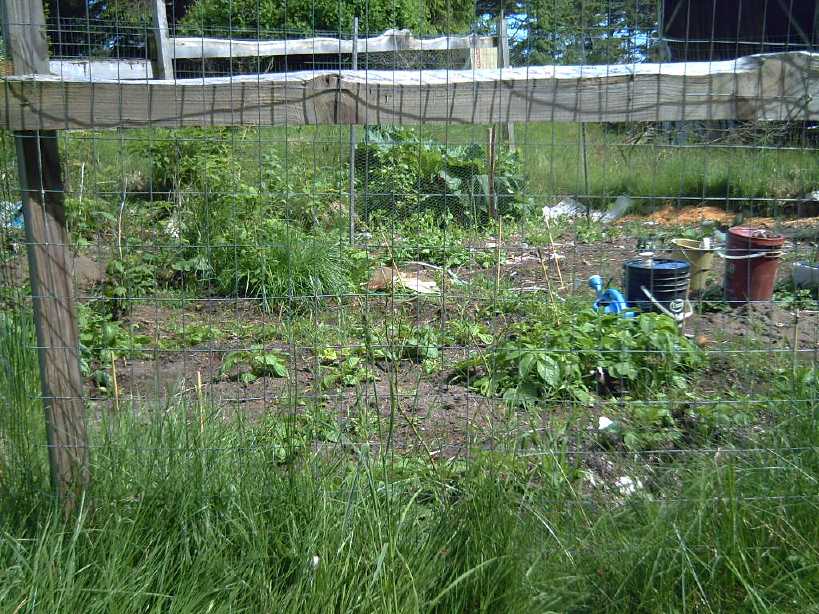 Main garden looking East.
Front: 3 rows of potatoes (out of many), Rear off left: mostly raspberries
Far (SE) corner: a couple of josta berry bushes being swallowed by a huge rhubarb
A 10' long row of peas starting to climb in front of that (expected yield > 1 Kg)
Sawdust piled along south fence has deterred at least some slugs.
I left the gate open once while working around the yard, and
before I noticed it a deer ate the leaves off a blueberry bush.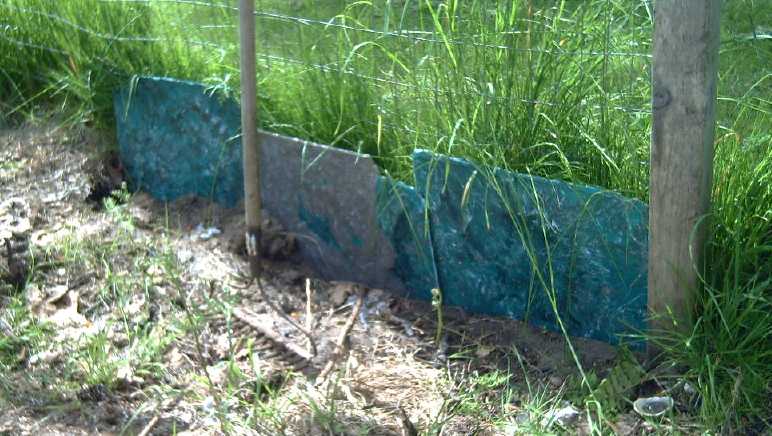 Recycled PP plastic grass roots barriers, well dug in. (not that I've prepared the spot and planted anything yet.)
I hope to mold 3 foot long pieces and do the entire perimeter.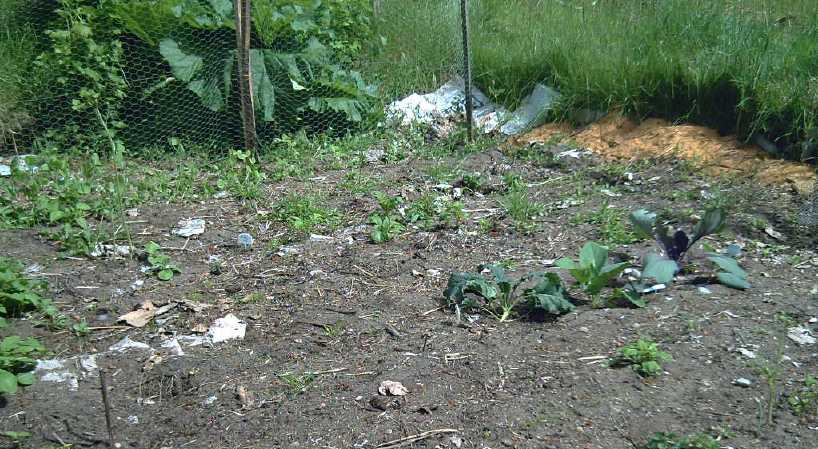 The slugs haven't got my short row of transplanted seedling vegetables... yet. (More slug bait!)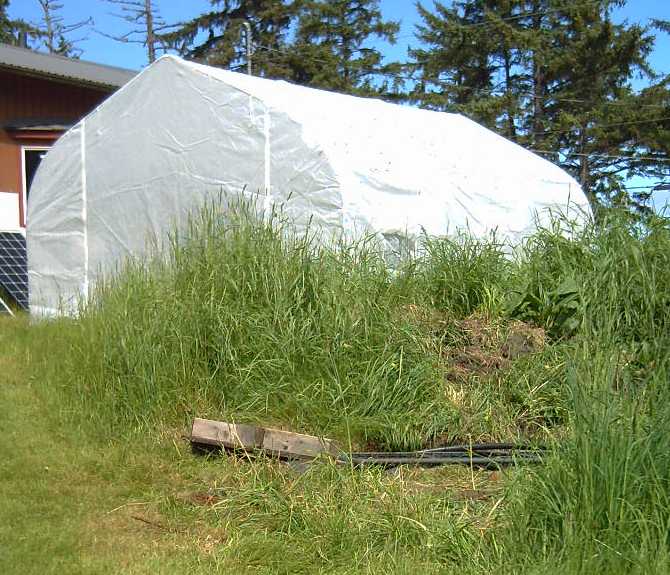 I bought a pipe frame & plastic greenhouse from
aosom.ca
for 265$.
(If I ever leave the door open, the deer will probably devour some prize stuff!)
I also made a little pond and put in 3 very costly goldfish.
("It's the air freight express shipping with all the water they're in that costs so much" said the store.)
I put a black Ikea sofa back frame as a grating over it to (hopefully) keep out raccoons and otters.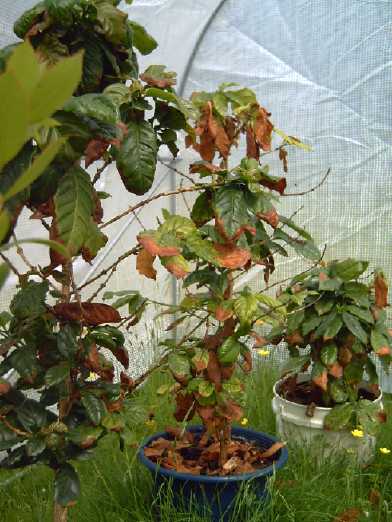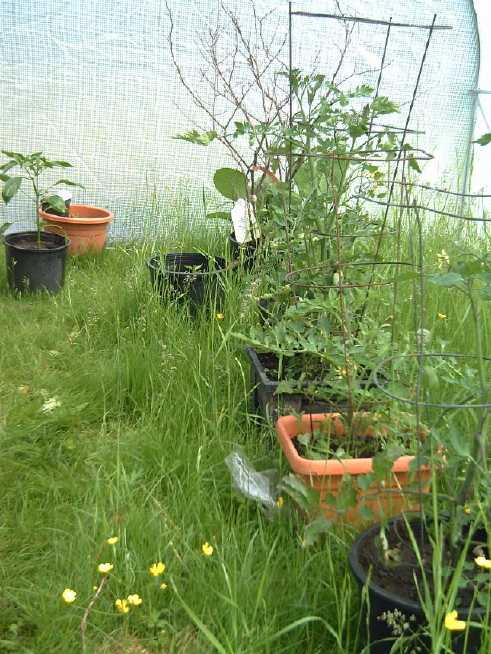 In this greenhouse: my potted plants. The coffee bushes, peppers, tomatoes, witch hazel.
All those brown leaves... did I overwater, or underwater, the coffee?
(Not seen: the strawberry tree/bush.)
The corn is growing nicely in the main greenhouse, and the asparagus, chard and some squash,
and cabbages, brocolli, and carrots going to seed.
A flower on a coffee plant!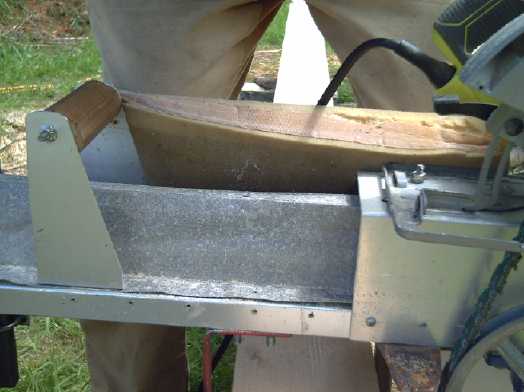 I milled a couple more of the spruce slabs.
As the slabs get lower and lower with each board taken, knee
pads on the saw need to be higher and higher up.
(Must add big knee pad to the design!)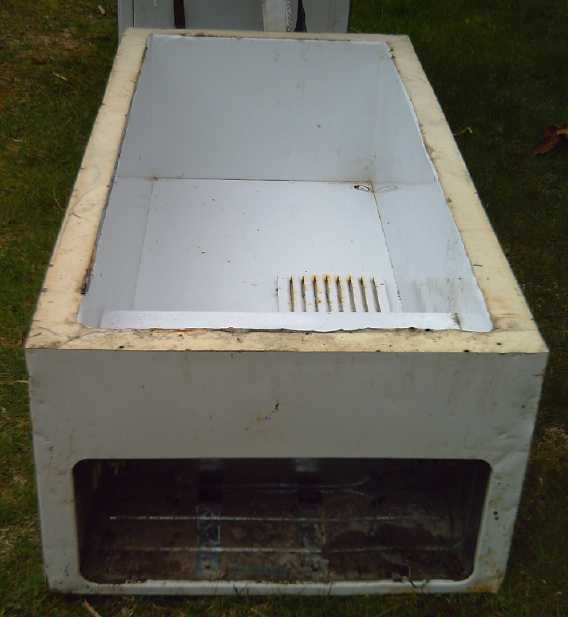 I'm presently making the new plastic molding oven from a
freezer with a metal inner liner to hold large molds.
(Egads I'm getting
so
little done in a month!)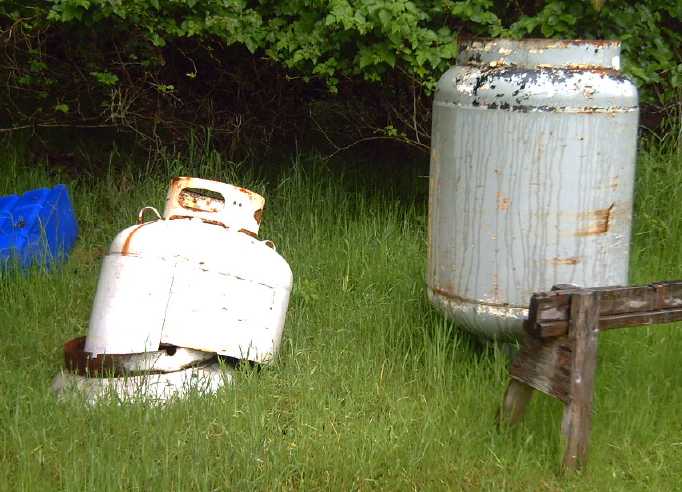 and salvaging steel plate for molds from (old, free) 85 gallon propane tanks.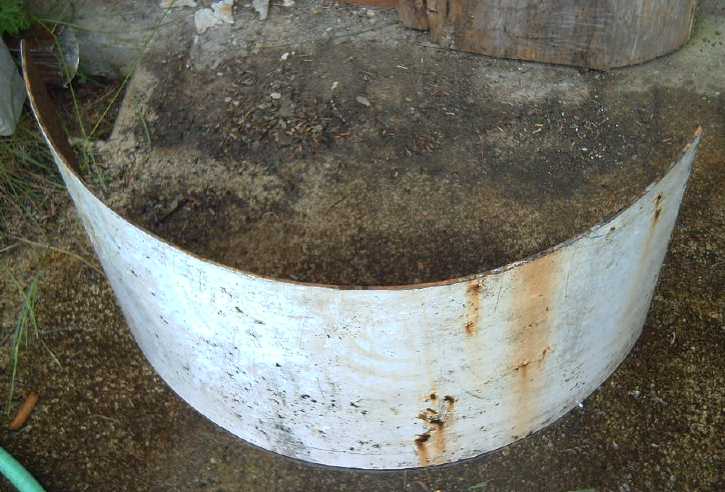 One of two propane tank steel plates for the 17"x36" flat sheets/plates mold.
Not very flat - but very stiff!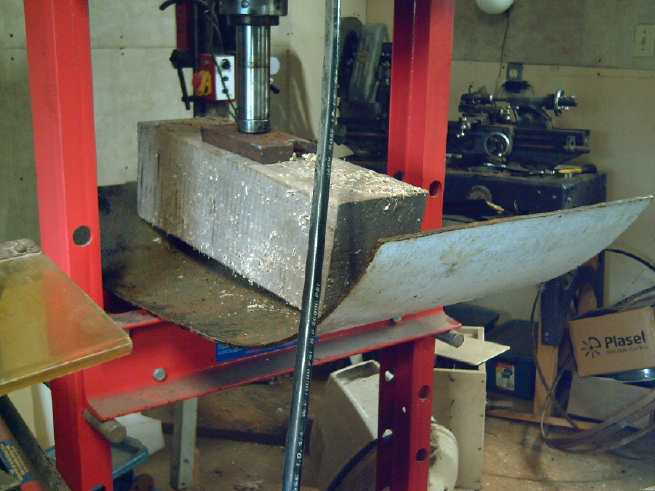 Flattening with hydraulic press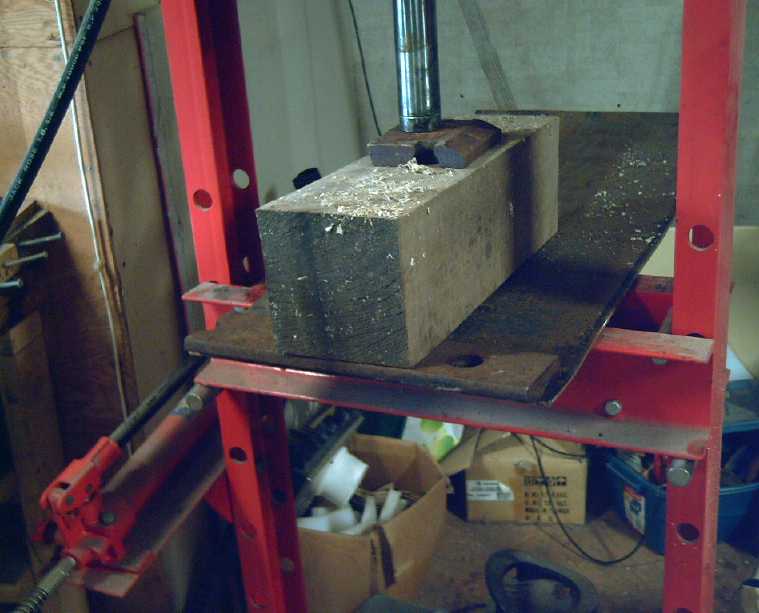 Bending past flat because steel springs back part way.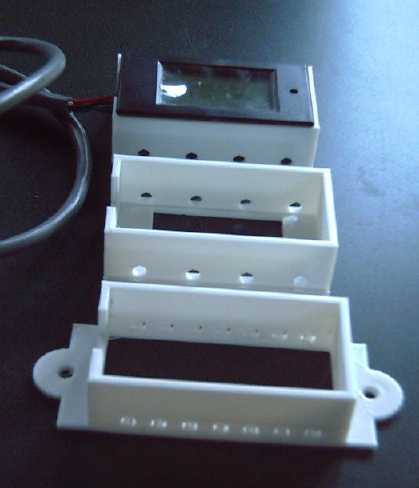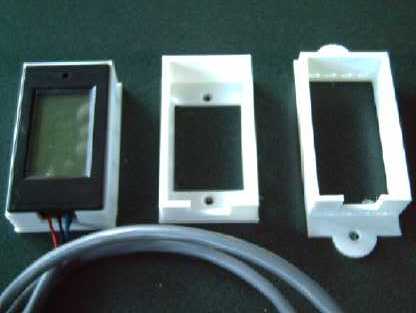 Two fotos of the new power monitor housings.
I left the wire end open as the plastic to cover would
sag into the slit during printing. Also that way the unit can
be wired while loose and then pressed into the housing.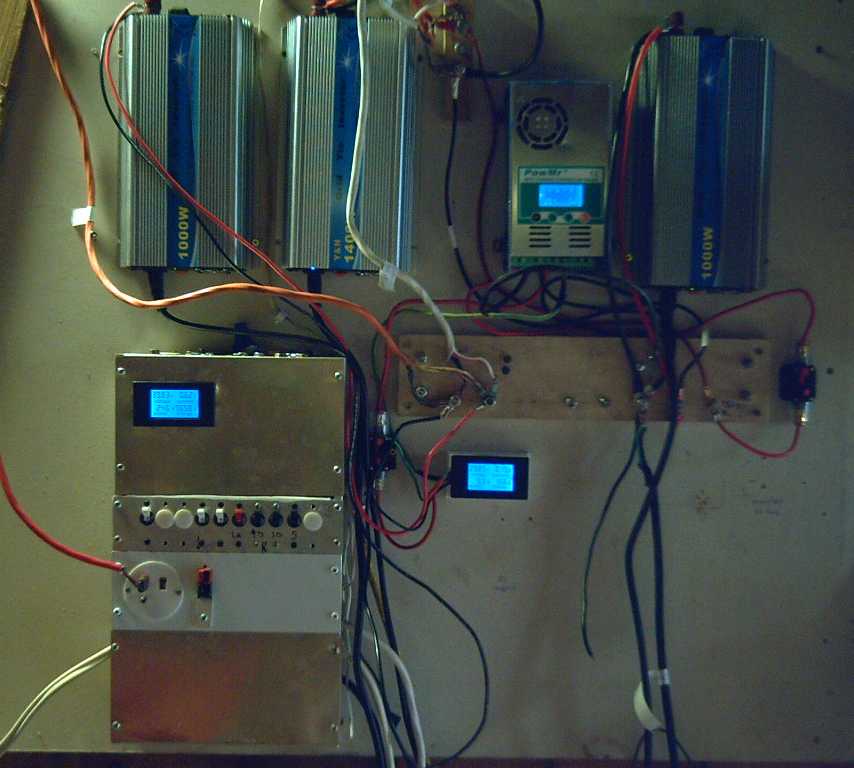 Old power monitor (36 VDC output to loads, 0-100 amps) mounted on face of breaker/equipment box.
New power monitor (DC charging input, 0-20 amps) mounted on wall in new 3D printed case.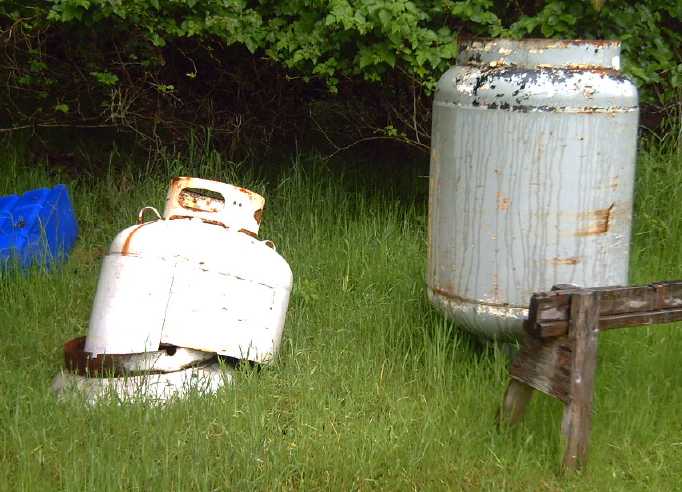 The cut up propane tank and the other one.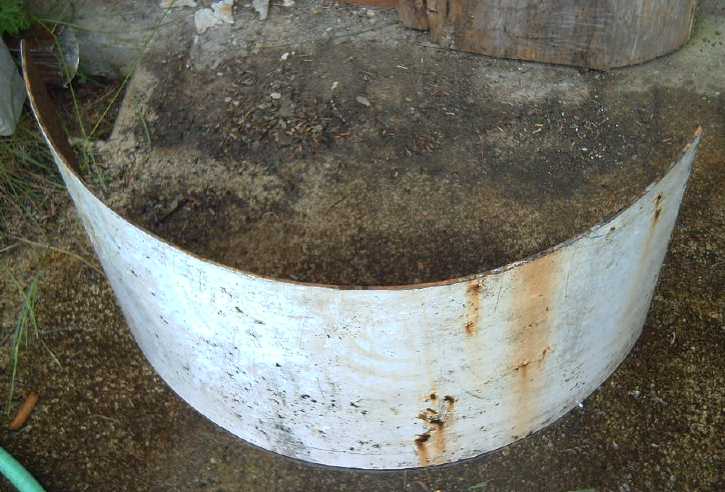 One of the cut out sheets/plates (5mm thick).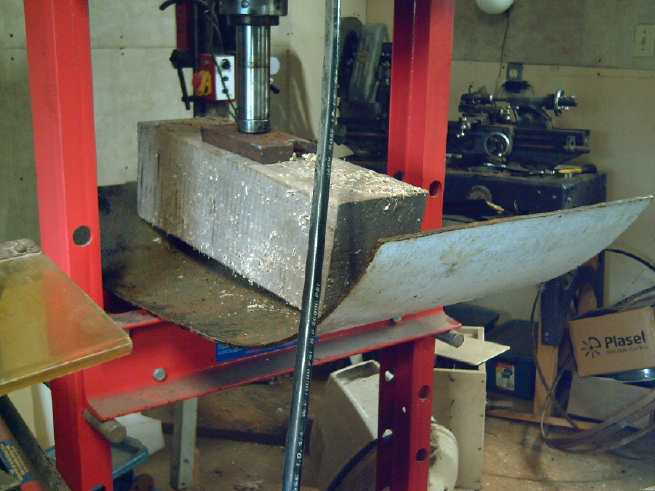 The beam in the press bending the steel sheet, with a
steel block above the wood to spread the pressing force.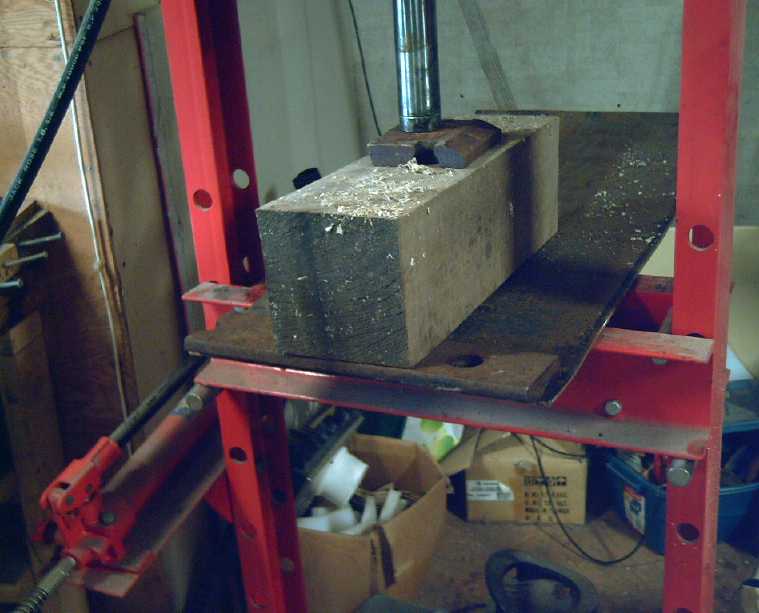 Of course steel springs back, so it must be bent past flat to flatten it... but by how much?
and where to bend? I put a heavy steel bar under one end of the beam for the extra bend.
Mostly I didn't go far enough and will have to work at it for a while longer to get nicely flat pieces.